Citation CJ3
Up To: 480 MPH | 8 PASSENGERS | 1,875 MILES
Interactive Cabin Tour
The Cessna Citation CJ3 brings to the NICHOLAS AIR fleet its sterling record of reliability, efficiency, and comfort. The CJ3 offers ample cabin space and luggage capacity, along with its improved ability to operate into and out of shorter runways. Known for its performance, range, and dependability, this aircraft lands perfectly in the NICHOLAS AIR fleet. As an upgrade from the Phenom 100, it's the ideal option for both short and mid-range flights.
Wireless high speed internet available
Ultra quiet cabin
Enclosed Lavatory
Adjustable 6 Axis Captain's Chairs For Enhanced Comfort
SPECIFICATIONS
| | |
| --- | --- |
| Maximum Range | 1,875 miles |
| Cruise Speed | 480 mph |
| Cabin Capacity | 8 passengers |
| Cabin Height | 4 ft. 9 in. |
| Cabin Width | 4 ft. 10 in. |
| Cabin Length | 15 ft. 8 in. |
| Baggage Capacity | 65 ft. (cubic) |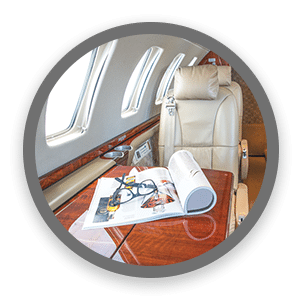 LUGGAGE CAPACITY
---
*Performance is based on standard conditions, zero wind with no runway or temperature restrictions, and NICHOLAS AIR's standard fuel reserves. Actual flight range, cruise speed, and performance will vary with payload, wind and weather conditions, and ATC (Air Traffic Control). Aircraft illustrations are not to scale. Baggage capacity is not guaranteed and all data is subject to change without notice. Please contact your NICHOLAS AIR aviation expert regarding any questions.